Dionicio's Reserve
Dionicio's Reserve
Regular price
Sale price
$20.50
Unit price
per
Sale
Sold out
Apricot, Chocolate, Black Tea 
Indulge in the flavours of Dionicio's Reserve from Peru, sourced from the Finca La Encanada region. This well-balanced, sweet cup offers delightful notes of apricot, chocolate, and black tea. The coffee's journey is a testament to a 14-year strong partnership between Seven Miles and coffee producer Dionicio Aguilar Mestanza. With each sip, you support the Mestanza family's improved quality of life. Taste the passion in this stunning washed Peruvian coffee.
100% Arabica coffee beans
Crafted by award-winning roasters
From farm to cup
Delivered straight to your door
View full details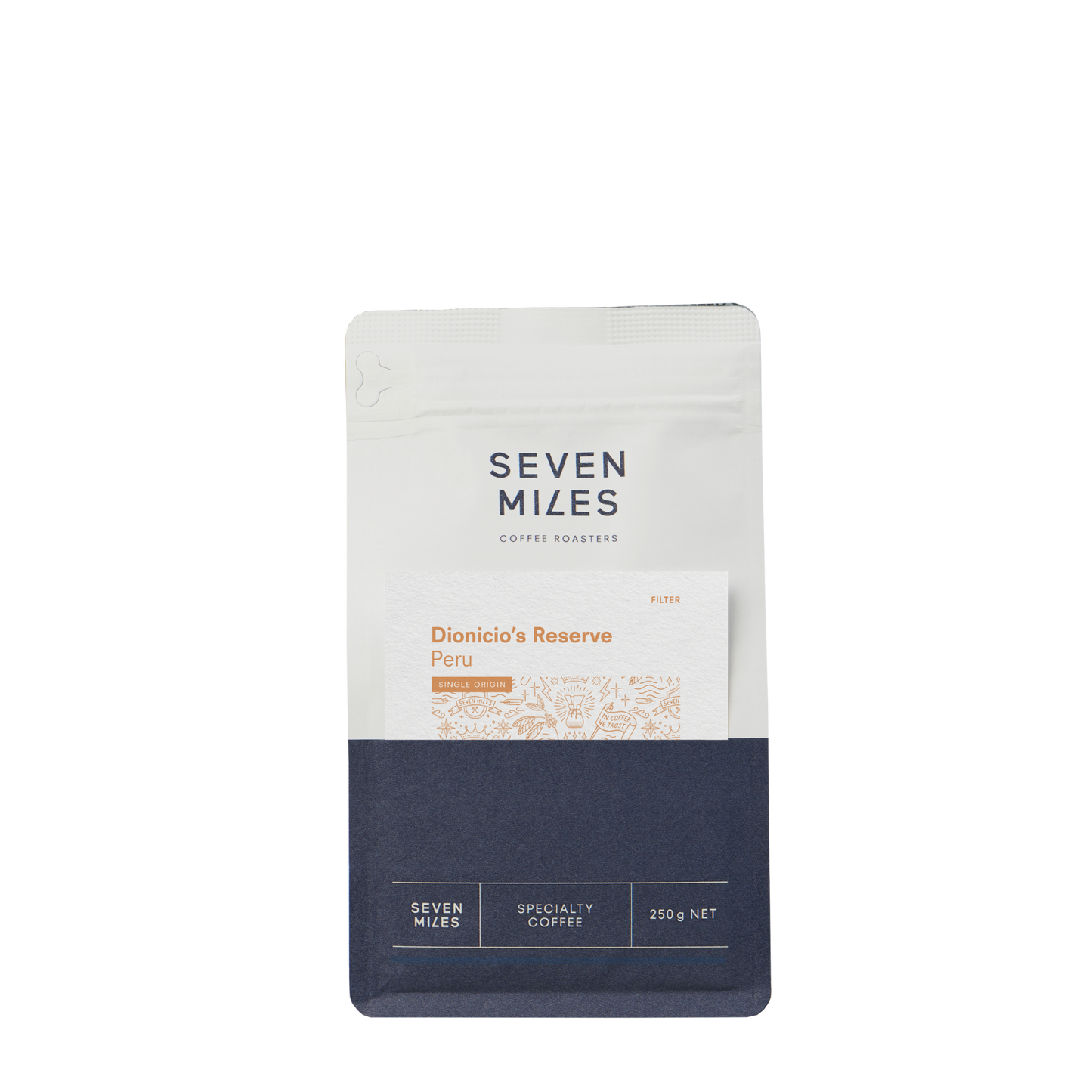 More About The Coffee
For 14 years, Seven Miles and Doinicio Mestanza have shared a special relationship. When Doinicio first invited us to his farm, there were no direct roads, and coffee transport relied on horseback. With our support and a shared vision for exceptional coffee, changes were made - new solar drying facilities, cupping rooms, washing tanks, and a new road to the farm. These changes provided immense improvements in the quality of coffee from Finca La Encanada and ultimately the Mestanza Families' standard of living. We are proud to continue supporting this family and presenting to you this stunning washed Peruvian coffee.
Producer: Peru Dionicio Aguilar Mestanza
Varietals: Mixed
Process: Washed
Ingredients & Origin
Ingredients: 100% Arabica Coffee Beans. Contains no additives or preservatives.
Sourced from: Peru
Blended, roasted, and packaged in NSW, Australia, from imported raw coffee beans.
Cup Count
1 – 2 cups daily - 250g per week
2 – 4 cups daily - 500g per week
6 – 8 cups daily - 1kg per week
Note: These guidelines are based on using 21-22 grams of coffee, our recommended dose size for double shots.
Storage Instructions
For optimal quality, store airtight in a cool, dry place, out of direct sunlight.
Recipe
Dose
20 GR
Yield
38 GR
Time
29 S
This recipe is for espresso and developed on a commercial coffee machine. Use as a guide to achieve your desired flavour preference. If you are unable to reproduce the exact result on your home machine, don't panic, an alternative is to simply adjust your recipe using the ratio so it works best for your set up.
Dose
12 gr
Yield
205 gr
Time
3:30m
Temp
96°C
Ratio
1:17
Not sure if this is the right coffee for you?