Cargo
Origins
Papua New Guinea, Brazil, India, & Tanzania
Tasting Notes
Dark Chocolate, Blackcurrant, Date, Malt
Recommended Espresso Recipe
21g In / 42g Out / 26-30 Seconds
Description
Cargo is a blend that traverses the globe. From the highlands of East Africa, past the monsoonal basin of India, to beyond the hillsides of Brazil and rainforests of Papua New Guinea.
With a bold flavour profile of dried fruit, nuts and dark chocolate, Cargo brings a certain spice to your favourite drink.
Bayside
Origins
Papua New Guinea, Brazil, Guatemala & Ethiopia
Tasting Notes
Cocoa, Honey, Plum, Raisin
Recommended Espresso Recipe
22 In / 44 Out / 25-29 Seconds
Description
A perfect blend for those seeking calm in the daily storm.
Focused on a smooth and balanced profile, Bayside has a plum and raisin sweetness with a creamy cocoa base. When the waves start breaking find solace by heading bayside.
Maverick
Origins
Brazil, Guatemala, Nicaragua & Colombia
Tasting Notes
Peach, Marmalade, Butterscotch.
Recommended Espresso Recipe
21g In / 42g Out / 26-30 Seconds
Description
A Maverick goes their own way. Bright, malty and sweet, this coffee works both as straight up espresso and for cutting through milk.
A rich seasonally adjusted blend of Central and South American coffees, Maverick deftly chooses the path less travelled.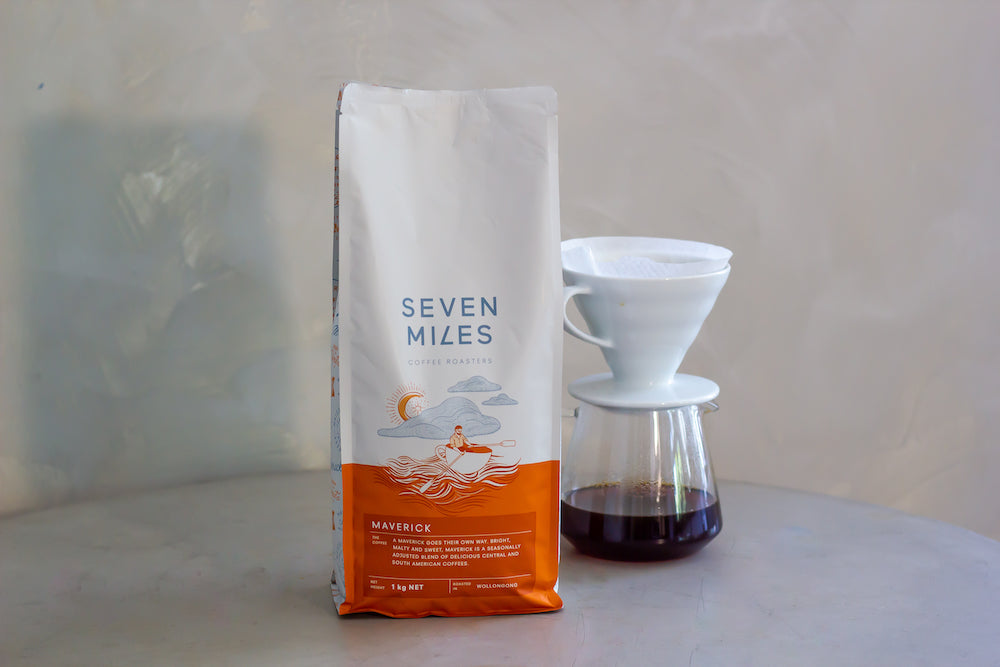 Questions?
Where can I buy the Cargo, Bayside & Maverick blends?
To buy Cargo, Bayside, Maverick, Leaf & Berry as well as our Decaf coffee, visit our Roastery Door at 85 Montague St, North Wollongong, NSW. Our Maverick blend is also available online.
Can I get coffee delivered to my home?
Yes, absolutely. We still deliver Maverick straight to your door along with many other Seven Miles coffee blends and pods. Use our blend finder to find the perfect coffee for you.
Do you supply wholesale for businesses?
Yes, absolutely. We've been partnering with cafe businesses for over 50 years. Find out more on our wholesale page.