Simply Exceptional Coffee
When it comes to taste, one size doesn't fit all. That's why we have a range of brands & blends – so you can find the perfect match for your customers. Each brand has its own range of signage, merchandise and more to help your business stand out.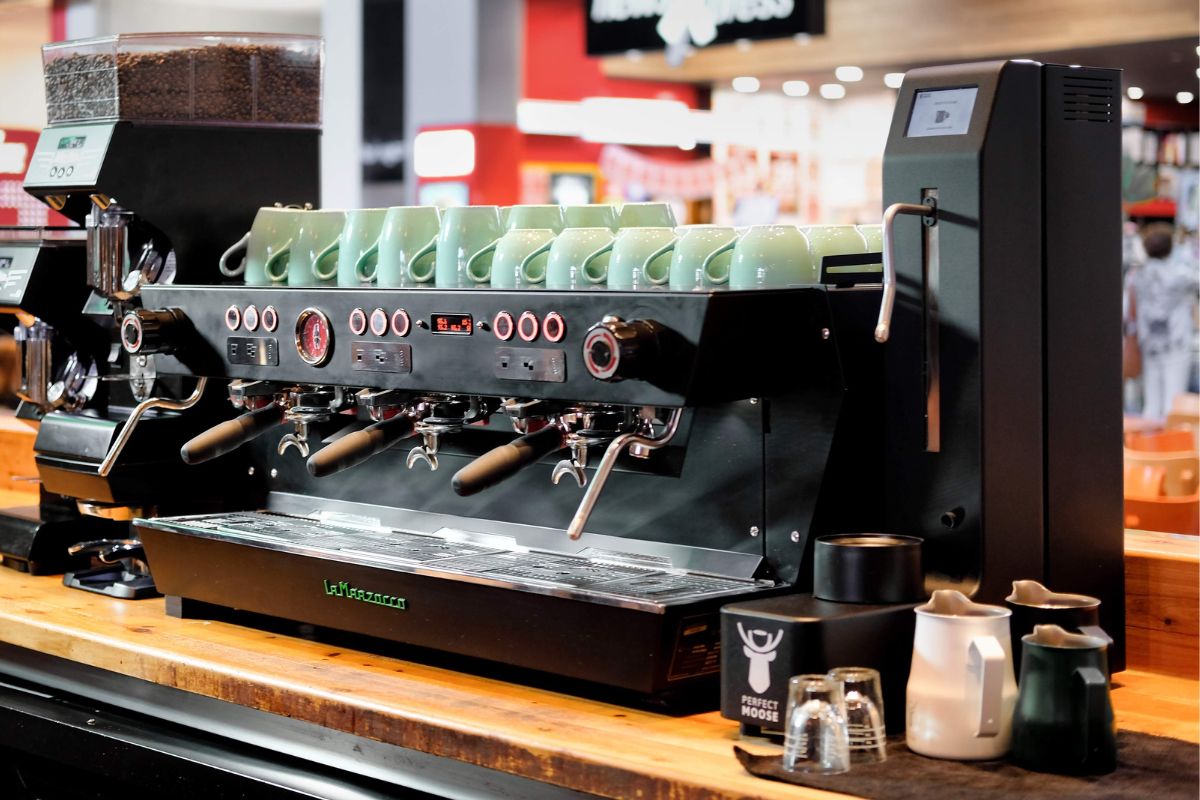 Industry Leading Equipment
Your equipment has to deliver the goods every day, but that doesn't mean it has to look like a toaster. With the latest tech from quality brands like La Marzocco, Dalla Corte & Mahlkonig in a stunning range of custom colours & finishes, we'll make sure your equipment is mind-blowing inside & out.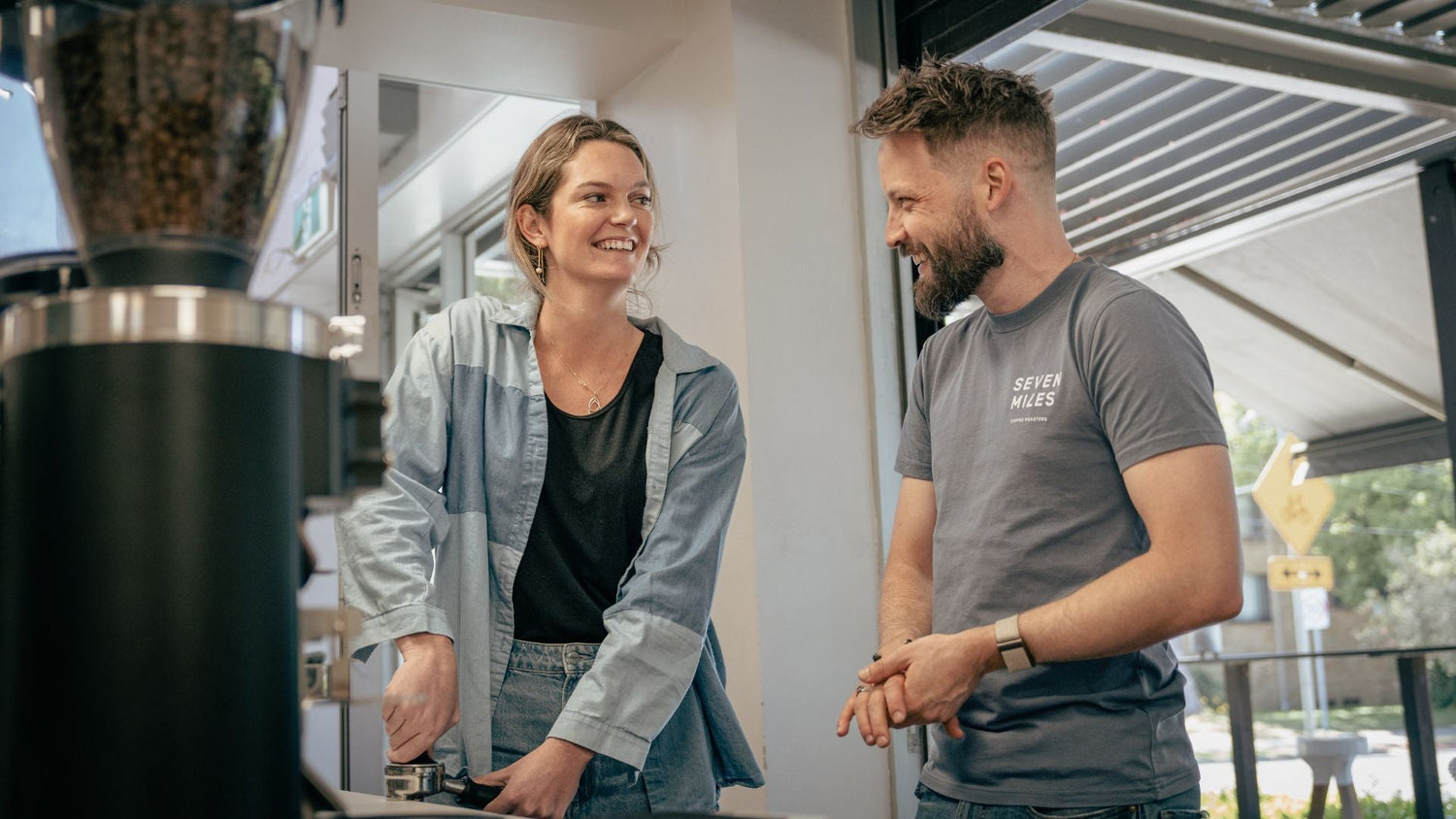 World Class Training
Through our network of dedicated training centres, our team of local coffee trainers on the road & real-time quality control data from your espresso machine – we've got what it takes to help you deliver consistently exceptional coffee day in, day out.
24/7 Support
Your business backed by a team of local coffee professionals whose daily mission is to help your team deliver exceptional coffee. Including on-site training, technical support & 24/7 breakdown service, it's nice to know someone's got your back.
What our customers say
" />
Seven Miles are very, very
supportive - and have been since day one.
Kaylee
Bakehouse Ainslie
" />
We've worked with other companies before who just weren't as consistent - I think that is key.
Nova & Tom
Sunnyboy Kiosk
" />
After-sales support is just as
important as getting the right blend of coffee.
Nick
Margot
" />
It is so nice to have a company that supports you and helps you out. Seven Miles are always there for us.
Georgia
Bittersweet Cafe
" />
Since the beginning, they were always there for us - giving the best support, and the best training.
Gary
Cafe Ronto
" />
I've never experienced service and genuine care like this from any supplier...the coffee is the best I've had and the feedback from customers increase weekly.
Michelle
Cruise Espresso
" />
The team at Seven Miles really care, and they want to help you succeed.
Ray
MAC Street Coffee
1. Get in Touch
Fill in the form below or give us a call on 1300 132 507. We'll put you in touch with our local coffee expert who will find out more about your business and arrange a tasting.
2. Decision Time
Next, we'll put together an offer that includes a package of coffee, equipment, training & marketing support designed to help grow your business.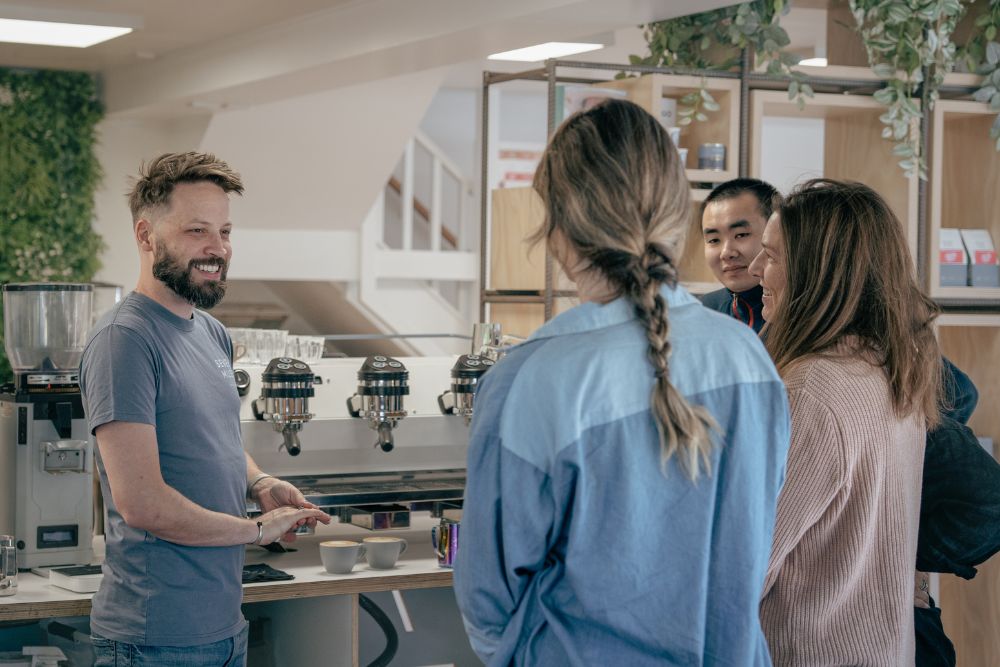 3. Install & Training
Now it's time to install equipment, organise training and start blowing customers away with exceptional coffee
Get Started
Use this form and we'll connect you directly with our local team in your area.
If you prefer, you can call our office on 1300 132 507 and we'll put you in touch that way.
Wholesale coffee questions
Which coffee is right for me?
The right coffee for your business depends on a number of factors, including the type of business, the mix of customers and more. Thankfully, the process of finding the right blend of coffee beans involves drinking a whole lot of delicious coffee. So, get in touch and we can arrange a tasting to run you through the options.
Do you supply equipment?
Sure do. We can put together the ideal package of commercial coffee equipment to rent or buy. You'll need to speak with our local team in your area for details. Of course, if you already have your own equipment, we can help with that too.
Do you offer marketing support?
Yes, we can help. From A-frame signs to reusable cups, umbrellas to digital media – there are variety of ways we can help you let the world know where to find amazing coffee.
Where do you provide barista training?
We also have local training centres in Sydney, Brisbane, Canberra, Wollongong, Newcastle & Mittagong. Where it's not possible to get to a training centre, our local team of coffee professionals can also train your team on-site.
Do you provide local support?
Yes, local support is key to how we work with cafe businesses. That's why we have a team of full-time Coffee Professionals on the road helping our customers with on-site training, equipment calibration and solutions to technical issues.
Do you have a wholesale price list?
Wholesale coffee pricing goes way beyond just sending a box of coffee beans. Depending on the business, it can include equipment, technical support, training, marketing, business support and more…in short, it's complicated. The best way to get a price is to talk with our local team who will tailor these options to suit your needs.