The Cat's Pyjamas
The Cat's Pyjamas
Regular price
Sale price
$17.00
Unit price
per
Sale
Sold out
Roast
Maple Syrup, Cocoa & Brown Spice
If you're looking for an average coffee blend, then you've arrived at the wrong location. The Cat's Pyjamas is rich, luxurious, surprising – like wearing a velvet suit, while stroking a white cat, in a 1965 Rolls Royce Silver Shadow.
The rich, chocolaty depth of Latin American coffees meets the spicy allure of Sumatra's finest. Coffee beans at their best, freshly roasted in Sydney. 
Available in bag sizes:
1kg - whole beans only
250g - whole beans or pick your preferred grind
100% Arabica coffee beans
Crafted by award-winning roasters
Roasted daily for freshness
Delivered straight to your door
View full details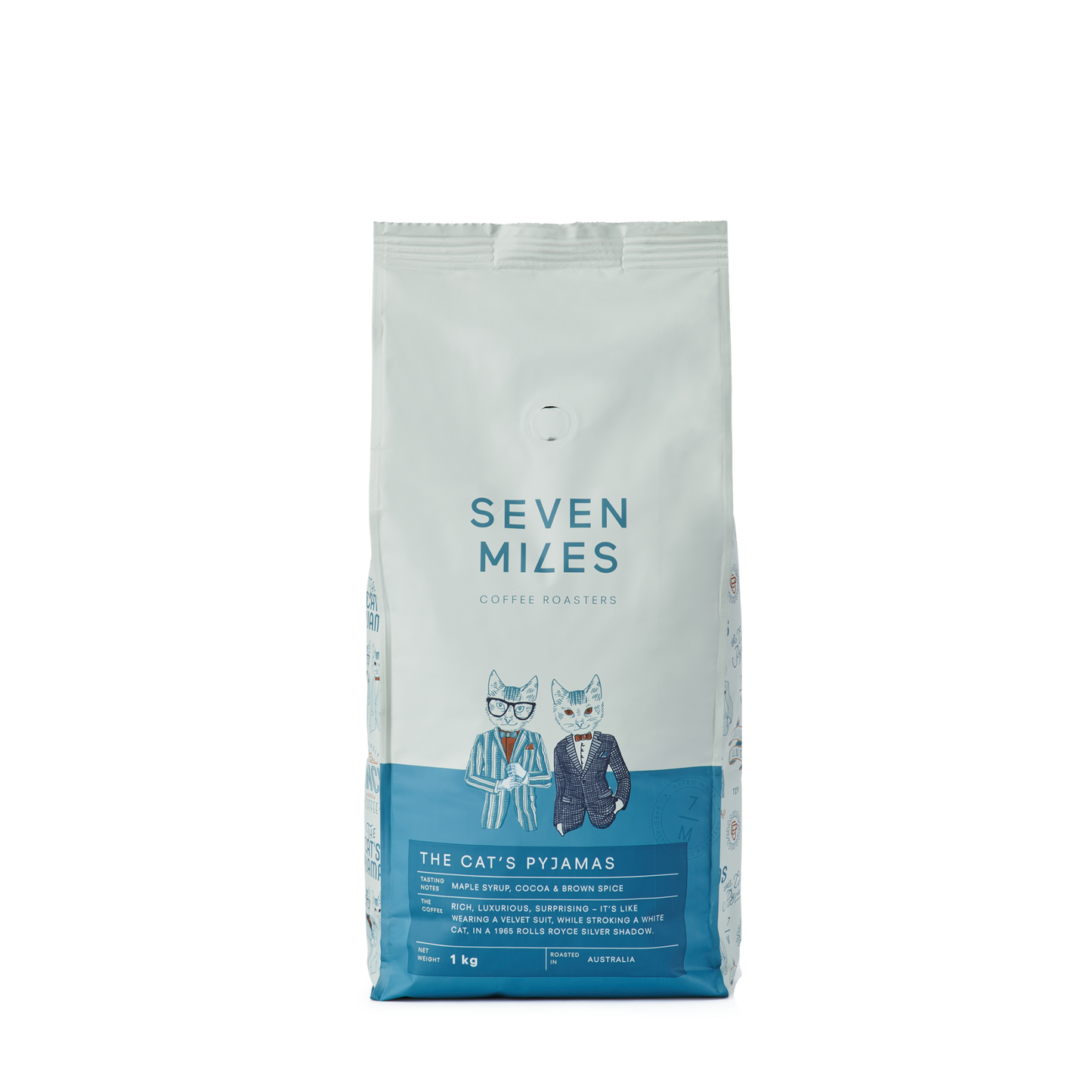 More About The Coffee
The Cat's Pyjamas displays hints of maple syrup, cocoa, and cinnamon blending in perfect harmony with the delicate roast notes.
The Cat's Pyjamas is one of our most popular coffees, a real crowd-pleaser. It's the perfect coffee blend for Latte, Cappuccino, or Flat White lovers while also wowing Long Black or Espresso drinkers.
Some of our coffee loving customers say it's "the best coffee ever", some take it overseas as they cannot live without it, and some others just enjoy taking pictures with the famous cats on the bag. We love all of their enthusiasm!
If you are a complete novice to home-espresso brewing or have been in the coffee game for a while but just realised that average beans don't cut it, then this is the coffee for you.
Likewise, if you like to make a mean brew using a plunger or using a stovetop, the Cat's Pyjamas coffee will get you a really smooth cup of coffee. So take these coffee cats on your next trip to ensure you get that exceptional cup-of-coffee feeling that you don't want to miss out on.
Ingredients & Origin
Ingredients: 100% Arabica Coffee Beans. Contains no additives or preservatives.
Sourced from: Colombia, Costa Rica, Indonesia, Guatemala
Blended, roasted, and packaged in NSW, Australia, from imported raw coffee beans.
Cup Count
1 – 2 cups daily - 250g per week
2 – 4 cups daily - 500g per week
6 – 8 cups daily - 1kg per week
Note: These guidelines are based on using 21-22 grams of coffee, our recommended dose size for double shots.
Storage Instructions
For optimal quality, store airtight in a cool, dry place, out of direct sunlight.
Recipe
Dose
21 GR
Yield
38 GR
Time
28-32S
This recipe is for espresso and developed on a commercial coffee machine. Use as a guide to achieve your desired flavour preference. If you are unable to reproduce the exact result on your home machine, don't panic, an alternative is to simply adjust your recipe using the ratio so it works best for your set up.
Not sure if this is the right coffee for you?