Bear and the Beard
Bear and the Beard
Regular price
Sale price
$17.00
Unit price
per
Sale
Sold out
Roast
Dark Chocolate, Maple Syrup & Hazelnut
Bears & Baristas don't have a lot in common, but there are a few things they can agree on:
1. Beards
2. The rich dark chocolate, maple syrup & hazelnut praline flavours of this coffee
3. Helping sick children & their families. You see, $1 from every kilo of Bear and the Bear coffee beans sold goes directly to help Bear Cottage provide care for children with life-limiting conditions.
Available in bag sizes:
1kg - whole beans only.
250g - pick your preferred grind. 
100% Arabica coffee beans
Crafted by award-winning roasters
Roasted daily for freshness
Delivered straight to your door
View full details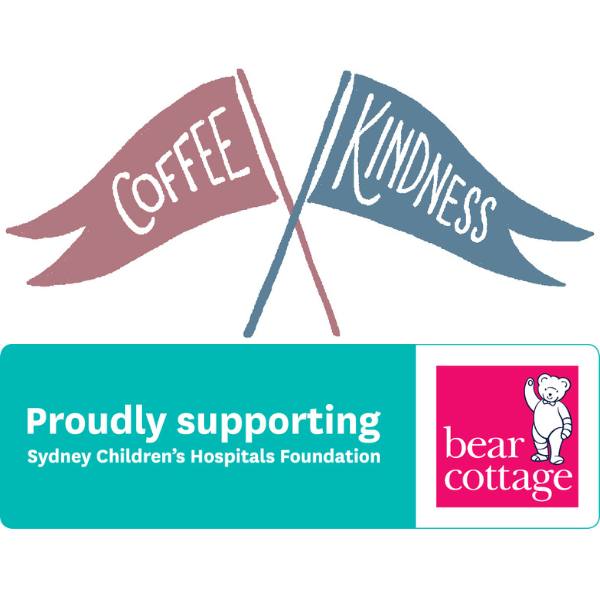 Supporting Kids
$1 from every bag of Bear and the Beard coffee sold goes directly to help Bear Cottage provide care for children with life-limiting conditions and their families.

Bear Cottage is a special place dedicated to caring for children with life-limiting conditions and their families, for respite and end-of-life care. For more info click here.


More About The Coffee
The Bear and the Beard is a blend of coffees from Latin America & Sumatra that delivers a smooth, sweet richness that blends beautifully with milk.
So, whether you're brewing the indulgent, syrupy body of this blend on your home espresso machine, a plunger or with a classic stovetop brewer over a crackling campfire, this blend is a surefire crowd-pleaser.
The Story Of The Bear
Once upon a time, there was a lonely bear who wanted nothing more than to live at peace in his abandoned gold mine, and to taste the magical elixir humans call 'coffee'. Alas, without opposable thumbs and precision brewing equipment the bear could only weep into his stylish, yet rugged enamel mug.  
"I would give anything for a single cup of coffee" said the bear forlornly. No sooner had he uttered those words, than a mysterious man emerged through a dense cloud of steam. "I have heard your plea" declared the man through the strands of his beautifully manicured beard, "and have come to reveal to you the wonders of coffee."  
After carefully testing the chemistry of the mountain water, the bearded man began a strange & complicated ritual which released an intriguing aroma of dark chocolate.  When the ceremony was complete, the bearded man offered the rich, dark liquor to the bear. 
With a quivering paw, the bear reached out to accept the cup. As the sweet notes of maple syrup & hazelnut praline filled the bear's senses, his mind was transported to memories of eating fresh honey as a cub.  Overwhelmed by the experience, the bear offered this friendly bearded man a nugget of gold from his suspiciously large stash. The bearded man smiled and replied, "I don't do this for reward; however, I will use this bounty to help sick kids & their families". 
After a warm, but manly embrace, both the bear and the bearded man made a pledge – that from now on, this delicious coffee & helping children in need would always go hand in paw. 
Ingredients & Origins
Ingredients: 100% Arabica Coffee Beans. Contains no additives or preservatives.
Sourced from: Colombia, Brazil, Indonesia
Blended, roasted, and packaged in NSW, Australia, from imported raw coffee beans.
Cup Count
1 – 2 cups daily - 250g per week
2 – 4 cups daily - 500g per week
6 – 8 cups daily - 1kg per week
Note: These guidelines are based on using 21-22 grams of coffee, our recommended dose size for double shots.
Storage Instructions
For optimal quality, store airtight in a cool, dry place, out of direct sunlight.
Recipe
Dose
21 GR
Yield
40 GR
Time
26-30S
This recipe is for espresso and developed on a commercial coffee machine. Use as a guide to achieve your desired flavour preference. If you are unable to reproduce the exact result on your home machine, don't panic, an alternative is to simply adjust your recipe using the ratio so it works best for your set up.
Not sure if this is the right coffee for you?