THE CAT'S PYJAMAS, BEAR AND THE BEARD, WILDE
Discover three of our bestselling coffee blends in our new coffee blend sampler pack, carefully chosen by our expert roasters and freshly roasted in Sydney. Try different strength levels and tasting notes to find the right coffee beans for you while saving money versus buying the bags individually. Each bag comes with a recipe card so you know how to brew an exceptional cup at home. Our sampler is also the perfect gift: surprise the coffee lover in your life with this beautiful box making each morning exceptional.
Pack includes: 
- 1x 250g The Cat's Pyjamas
- 1 x 250g Bear and the Beard
- 1 x 250g Wilde
Available as whole beans or your preferred choice of grind. 

100% Arabica coffee beans
Crafted by award-winning roasters
From farm to cup
Delivered straight to your door
View full details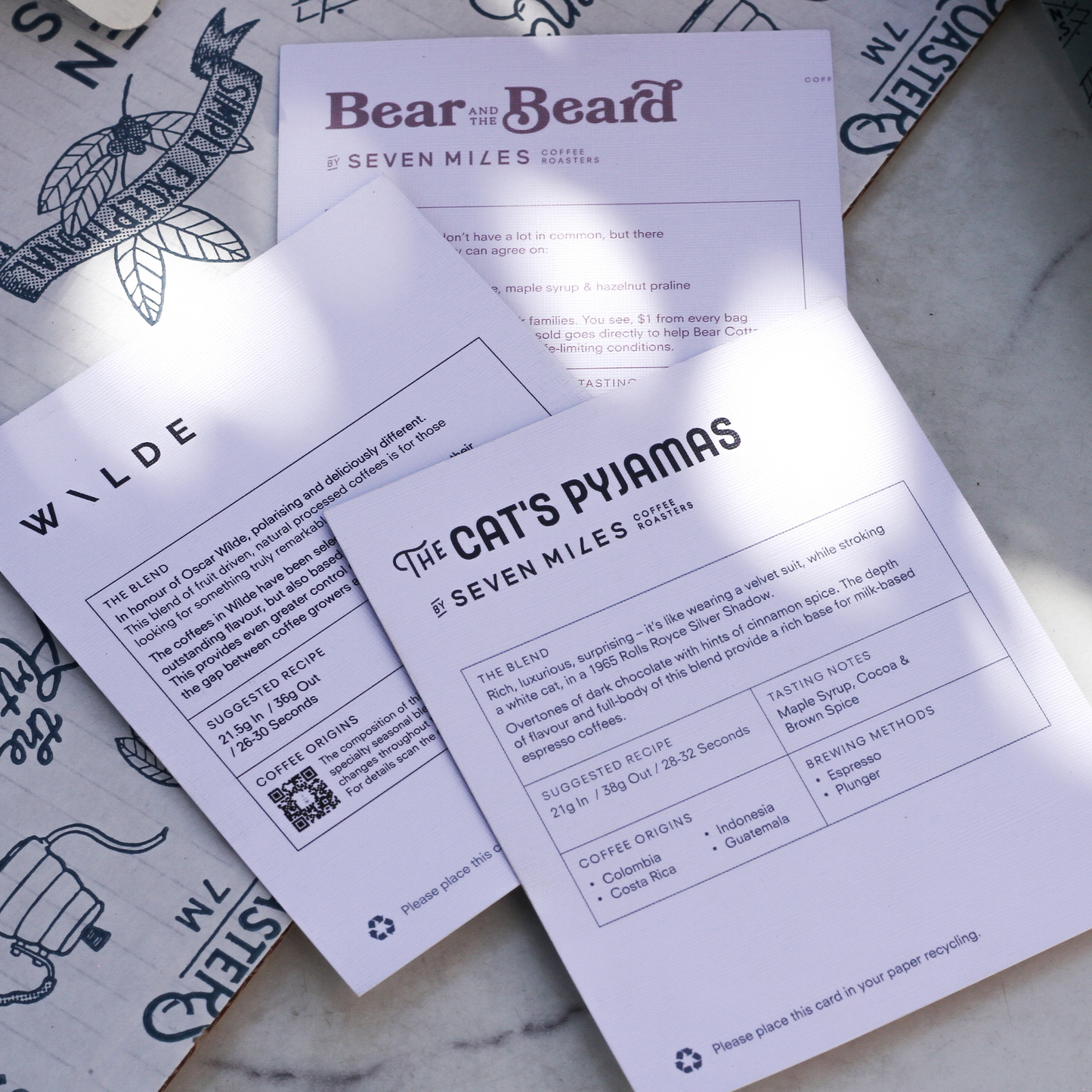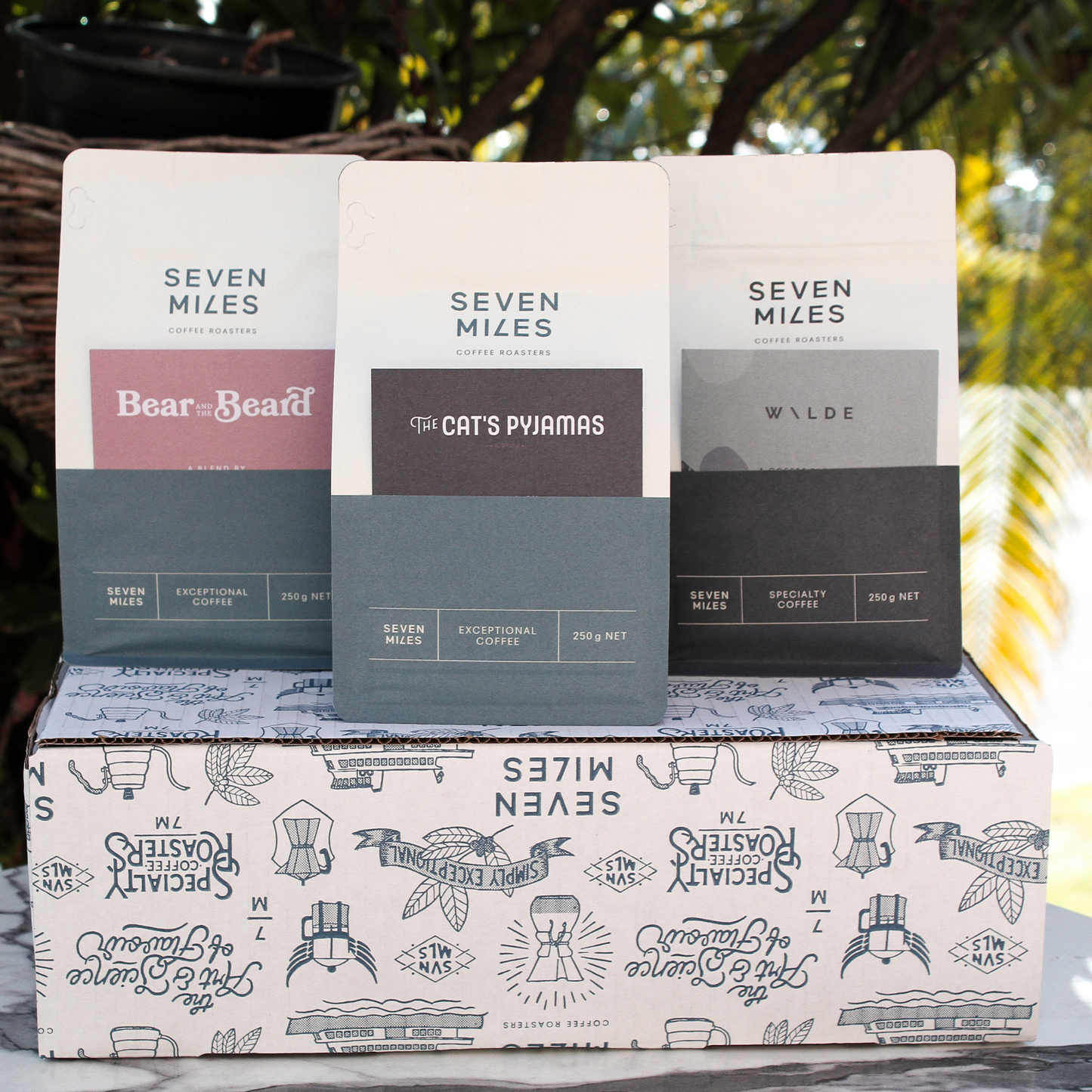 About These Coffees
The Cat's Pyjamas: Our most popular coffee displays hints of maple syrup, cocoa, and cinnamon blending in perfect harmony with the delicate roast notes. It's the perfect coffee blend for Latte, Cappuccino, or Flat White lovers while also wowing Long Black or Espresso drinkers.
Roast Level: 4/7
Tasting notes: Maple Syrup, Cocoa, Brown Spice
Suitable for: Espresso, Plunger, Stovetop

Bear and the Beard: A blend of coffees from Latin America & Sumatra that delivers a smooth, sweet richness that blends beautifully with milk. When brewing the indulgent, syrupy body of this blend, you also help sick children & their families as $1 from every kilo of Bear and the Bear coffee beans sold goes directly to help Bear Cottage provide care for children with life-limiting conditions.
Roast Level: 6/7
Tasting notes: Dark Chocolate, Maple Syrup, Hazelnut
Suitable for: Espresso, Plunger, Stovetop
Wilde: Expertly crafted using a blend of natural and honey processes. Featuring single origins from Costa Rica Jaguar Honey, Ethiopia Guji Womberta, and Papua New Guinea Arufa, the coffee bursts a tantalising mix of fruity and caramel notes.
Roast level: 2/7
Tasting notes: Wild Berry Jam, Rockmelon, Nectarine
Suitable for: Aeropress, Espresso, Plunger
Ingredients & Origin
Ingredients: 100% Arabica Coffee Beans. Contains no additives or preservatives.
Sourced from:
The Cat's Pyjamas: Colombia, Costa Rica, Indonesia, Guatemala
Bear and the Beard: Colombia, Brazil, Indonesia
Wilde: Costa Rica, Ethiopia and Papua New Guinea
All coffees blended, roasted, and packaged in NSW, Australia, from imported raw coffee beans.
Cup Count
1 – 2 cups daily - 250g per week
2 – 4 cups daily - 500g per week
6 – 8 cups daily - 1kg per week
Note: These guidelines are based on using 21-22 grams of coffee, our recommended dose size for double shots.
Storage Instructions
For optimal quality, store airtight in a cool, dry place, out of direct sunlight.
Not sure if this is the right coffee for you?